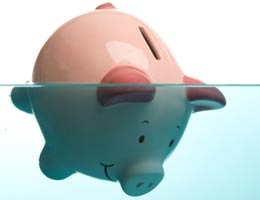 Life rarely goes as planned. That's why it's always good to have an emergency fund in the bank.

Avoid letting unexpected expenses or events lead you to financial ruin. Start building your emergency fund.
How much should I have in my emergency fund?
Exactly how much money you should keep in your emergency fund is open to debate. At an absolute minimum, it should cover your daily living expenses for three months. Six months would be wiser, and some planners recommend a full year.

Don't feel like you have to create your entire fund this week. Most people start by setting aside a monthly amount — for example, 5% of their paychecks, or another amount that lets them build up one month's worth of living expenses over the course of a year.

It helps to make this automatic, for example, by asking your bank to set up an automatic deduction program from your checking account to your savings account.
Reduce Your Expenses
Reducing your expenses can also help you find the money to sweep as little as $100 or month or 10 percent or more of your income into a savings account.

Set up an automatic transfer from your paycheck into your savings account every week or every month and you'll be less likely to notice the missing cash.

Even better, once you've finished making payments on a big-ticket item, such as a car payment, a student loan, or your credit card debt, just shift that payment to your savings account instead.

Little expenses like your daily latte, medium-cost items like a weekly pedicure, and splurges like theater tickets all cut into the money you have available for savings.

Try a one-month "no spending" diet and eliminate everything but essential expenses to give your savings a big boost.
Browse Curtis' Personal Finance section for books on how to cut your expenses.
Generate Some Extra Income
If going out and getting a job outside the home isn't an option, consider finding a way to work from home instead.  Do you stay home with your kids?  Why not offer babysitting or after-school care for a few of their friends whose parents need childcare?  Are you good with computers?  How about becoming a Virtual Assistant?  Do you sew?  Why not offer a tailoring service or perhaps sell your own items on Etsy.com?  Are you able to spot a diamond in the rough?  You could salvage & spruce up old furniture then resell it on Craigslist.  
Visit the Curtis Money sections (2nd floor near the Reference Desk) for books on how to start a home business. Need help? Ask a Librarian!